admin on 05 6, 2010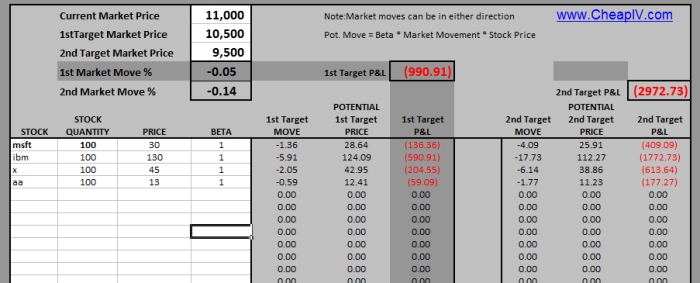 Today's market was the craziest market I have ever seen, both on and off floor.  The waves of selling that just kept coming were quite amazing.  Computer algorithms were being triggered left and right and that set off even more selling.  I kept saying to myself this is not normal… something happened.
Now CNBC is reporting it was human error.  How would you like to be that trader that said I caused the 1,000 point sell off.  Well, I guess if he made money on it then he did pretty well.  If not, I guess he is losing his job as I write this.
The whole time this was happening today, I kept thinking I hope you guys listened to me and bought your portfolio protection when you could not when you had to.  Kind of like trying to get flood insurance after the major flood…prices are sky high.
I have done webinars in the past on how to protect your portfolio from days like this.  We went through several different strategies that you can employ that vary in the degree and cost of protection.
For those of you who sat in those webinars I offered a simple worksheet to show you your risk in your portfolio based on beta weighting.   You can download that here:
Must be registered to get download link: [private_free]
[download id=1]Â  [/private_free]
I will post a video on how to use it soon.  I will also post a link to the webinar we are doing tonight covering today's market and how to hedge your portfolio.
If you haven't protected yourself yet, there is still time.  Don't throw your hands up and say the market is already off and now I can't do anything.  The Dow went down to $6,400 and back to $11k in a year.  We just dropped $1,000 points in one day.  You don't have to give it all back.
The implied volatility is very high now so if you did not get in before this, then it is time to alter the strategy from straight puts to some type of offsetting volatility spread.  I will talk about this tonight in the webinar and post more tomorrow on the subject.