admin on 12 15, 2010
Business Summary
Sears Holdings Corporation operates as a broadline retailer in the United States and Canada. Its Kmart segment operates stores that sell general merchandise under Jaclyn Smith and Joe Boxer labels, as well as Sears brand products, such as Kenmore, Craftsman, and DieHard. Its stores offer home appliances; footwear; groceries; and automotive accessories, repair, and maintenance services, as well as operate in-store pharmacies. The Kmart also sells its products through its kmart.com Web site. The company's Sears Domestic segment operates stores that offer merchandise categories, including home appliances, consumer electronics, tools, and fitness, lawn, and garden equipment; automotive services and products; home fashion products; and apparel, and footwear and accessories. Its stores also sell health and beauty products, pantry goods, household products, and toys. This segment's direct to customer business offers clothing, accessories, footwear, and soft luggage; commercial business provides appliances and services to construction/remodel, property management, multi family new construction, and government/military sectors; appliances business provides appliance and plumbing fixtures to architects, designers, and new construction or remodeling customers; and home services business offers parts and repair services for home appliances, lawn and garden equipment, consumer electronics, floor care products, and heating and cooling systems, as well as provides home improvement services. The Sears Canada segment conducts retail operations in Canada, and offers apparel and other softlines. As of January 30, 2010, the company operated approximately 1,327 Kmart stores, 848 full-line stores, 60 Sears Essentials/Grand stores, and 1,284 specialty stores in the U.S.; and 122 full-line stores, 280 specialty stores, 22 floor covering stores, 1,853 catalog pick-up locations, and 108 travel offices in Canada. Sears Holdings was founded in 1899 and is based in Hoffman Estates, Illinois.
[private_SwingCreditTrader]
12/29 Amazingly with a surprise announcement from SHLD that they are starting a online movie business has driven the stock up well beyond our expectations.  This is short squeeze, plain and simple.  We are exiting our short put spread with the stock at $74.4 and our put spread trading at $0.5.  This locks in profit of $1.2 for the trade.  This is about 45% return on risk in 14 days.
12/27 With the stock dropping to a low of $66.2 we think support will hold so we are going to take advantage of the sell off and buy back the short call spread for $0.62.  The stock is currently trading at $66.5.  If support does not hold then we will want to get out of the Put spread before it starts to hurt us.
12/15 SHLD has had several days of consolidation after a recent run up to just above $70 on the opening then selling off to support.  We have placed the our upper short strike at that $70 level.  If the stock does start to make a run then we have some room to absorb it.  It should have slight pause at that resistance level.  Support has come in at the first just above $66, then just below $65, then just below $63. We also sold the $65 Puts close to support areas for it to give us a place for the stock to bounce.  If it goes through high or low sup/res areas then we need to make the decision as we approach break even points.  Most likely a new trend will be established so the trick will be to reduce risk before it blows through our break even points.  We will keep you posted.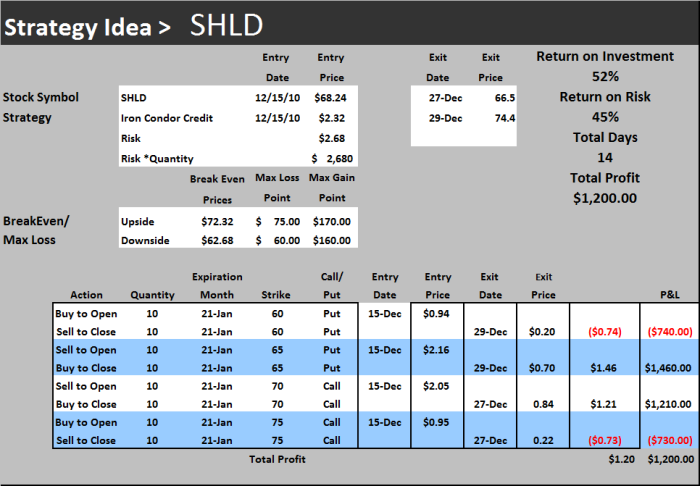 Must be logged into view content:
[loginform]