admin on 12 13, 2010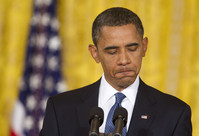 There are three quick updates for you that are not  market changers, but ones that are important.
1) A Federal Judge ruled that the Obamacare's "requirement" of minimum coverage for all citizens has been ruled UNCONSTITUTIONAL! Here's a link to the article!
2) White House has doubled the amount of companies that have received waivers from Obamacare.   Here is a link to that article!
3) Congress has kicked the can to the new Congress on trying to cut Medicare by 23%.  Congress pushed off the cuts for one year.  This has happen for several year in a row, but no one wants to be blamed for the mess that it will create when they do finally try to get the budgets in order.